Discreetly Straighten Your Smile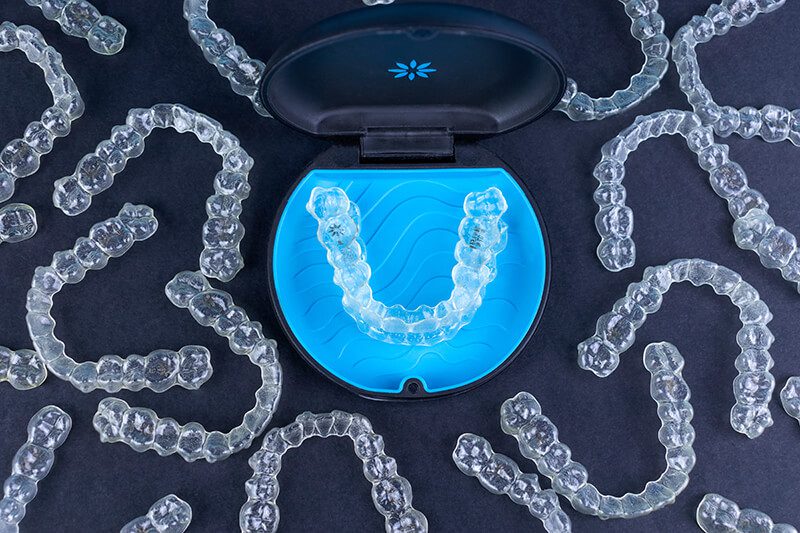 Invisalign® Treatment
The team at William J. Gioiello D.D.S. Inc. understands how important it is to feel comfortable and confident with your smile. Located in Huber Heights, OH, Drs. William and Doug have years of experience correcting teeth alignment. Their expertise combined with Invisalign® technology will have you on the fast track to a smile you love in no time!
What is Invisalign®?
Invisaign® aligners are created with 3-D computer imaging technology and are an effective technique to straighten teeth. They are an ideal alternative to braces, especially for adults looking for a less obvious look, since they are "invisible." That's right–you can have a teeth alignment treatment that is so discreet, people won't even notice you have aligners in!
How Does Invisalign® Work?
Invisalign® offers a teeth-straightening experience much unlike braces. You will get your own set of custom-made alignment trays that are designed to straighten your teeth little by little. They are made of smooth, clear plastic that fits comfortably in your mouth and goes practically unnoticed. The aligners will gradually adjust your teeth based on the movements prescribed by your doctor.
There are no metal brackets, wires, or rubber bands required. They are easily removable for eating, drinking, or brushing your teeth so you can keep your mouth and aligners clean as well. Keep in mind that if they are not in, they are not working. For the best result, you should have your aligners in for approximately 22 hours per day.
Why Choose William J. Gioiello D.D.S. Inc. for Treatment?
When making the decision to pursue straighter teeth it's optimal to work with a professional who can oversee your treatment. Our doctors at William J. Gioiello D.D.S. Inc. will work with you to ensure your teeth shift comfortably and correctly. Additionally, your jaw will likely shift with your teeth. Our doctors will monitor your jaw movement to ensure that there is no crowding and everything fits perfectly.
William J. Gioiello D.D.S. Inc.
Monday: 8:00 AM - 7:00 PM
Tuesday: 8:00 AM - 5:00 PM
Wednesday: 8:00 AM - 5:00 PM
Thursday: 6:00 AM - 7:00 PM
Friday: 7:00 AM - 12:30 PM
Saturday & Sunday: Closed