Restore & Achieve Your Dream Smile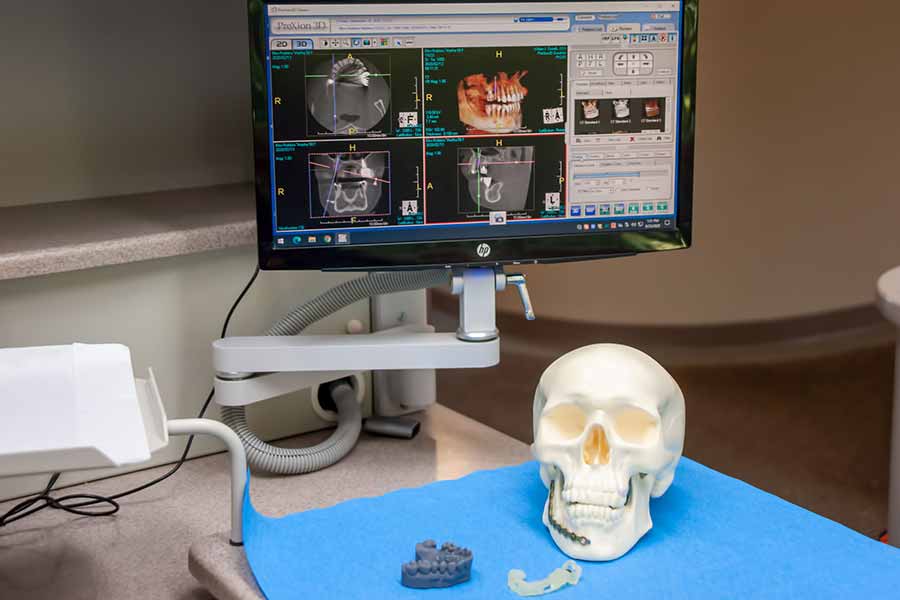 Cosmetic & Restorative Care
Show off the smile you've always wanted with the office of William J. Gioiello D.D.S. Inc. guiding you every step of the way. We provide the latest in cosmetic and restorative dentistry to make your dream smile a reality.
We can help you achieve your cosmetic goals with services like teeth bleaching, dental implants, porcelain veneers, and Invisalign®. Our trained staff can administer nitrous oxide sedation to help patients feel relaxed and comfortable throughout treatment.
If you're located in Huber Heights, OH, or in the surrounding communities of Miami and Montgomery Counties, we welcome you to schedule a consultation for cosmetic and restorative treatment.
Dental Implants
A dental implant is a small surgical-grade titanium rod that replaces missing teeth and provides stability in the root of a tooth. Over time, they eventually fuse to the jawbone. Implants can replace a single tooth, several teeth, or support a bridge or full set of dentures.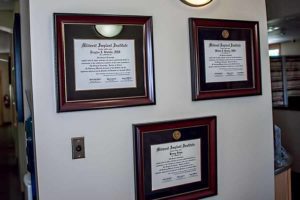 Dental Crowns & Bridges
A dental crown is a cap that covers dental implants or individual teeth that are damaged, weak, broken, or have undergone root canal treatment. Dental bridges cover areas where there are adjacent dental implants or damaged teeth.
Intraoral Exams
We utilize the latest intraoral camera technology for our general and preventative dental procedures, including teeth cleanings, examinations, and oral cancer screenings. These cameras allow us to examine your oral cavity and detect abnormalities faster and more efficiently.
Sealants
Sealants are made from resin material that resemble your natural teeth. Once applied to the chewing molars, they protect your teeth and every individual groove and ridge from acidic erosion, bacterial buildup, and decay.
Dentures
Dentures are prosthetic devices that replace missing teeth. We administer partial and full dentures to patients who have suffered tooth loss, damage, severe periodontitis, and bone loss in the jaw.
Tooth Extractions
A tooth may require extraction after an injury, damage, or severe tooth rot. We perform tooth extraction, and following the procedure, we'll help you minimize future problems and restore your smile with further treatment. Call our office at 937-237-9211 if you're in need of emergency tooth extraction.
Composite Fillings
Composite fillings resemble the natural color of teeth. These tooth-colored fillings are durable, resistant, and provide a more aesthetically-pleasing alternative to silver fillings.
Root Canals
Root canal treatment is necessary when the inside of a tooth becomes infected. During a root canal, our dentists will remove the infected tissue, and then clean and decontaminate the area. We'll seal off the tooth and protect it with a dental crown or permanent filling.
Dental Veneers
Are your teeth worn down, chipped, or discolored? Dental veneers are thin porcelain shells that are cemented to your teeth to create a reshaped, brighter, and fuller smile. Porcelain veneers are stain resistant and can also make your teeth whiter. This minimally invasive procedure is a popular and transformative option!
Invisalign®
Invisalign can give you the smile of your dreams without the need for traditional metal braces. Your treatment is entirely customizable and will straighten your teeth, correct your bite, and give you a more uniform smile. Drs. William and Doug Gioiello are trained to administer Invisalign treatment in more complicated orthodontic cases. If you're interested in Invisalign treatment, contact us today.
Teeth Bleaching & Teeth Whitening
No one should have to cover up their smile because of the color of their teeth. If you're looking to achieve a brighter and whiter smile, we can provide you with a couple of whitening options!
Teeth whitening removes external stains caused by bacteria, smoking, coffee, and red wine. We also offer teeth bleaching, which removes intrinsic staining and tooth discoloration. Both procedures yield stunning, long-term results.
Tooth Bonding
If you have individual teeth that are chipped, cracked, or discolored, tooth bonding may be an option. We can administer tooth-colored resin to fill in areas where that may be chipped or cracked. Tooth bonding can also fill in gaps between teeth.
William J. Gioiello D.D.S. Inc.
Monday: 8:00 AM - 7:00 PM
Tuesday: 8:00 AM - 5:00 PM
Wednesday: 8:00 AM - 5:00 PM
Thursday: 6:00 AM - 7:00 PM
Friday: 7:00 AM - 12:30 PM
Saturday & Sunday: Closed