Maintain a Healthy & Beautiful Smile
General & Preventative Care
Preventative dental care and a healthy smile are cornerstones to thriving overall health. For over 25 years, the office of William J. Gioiello D.D.S. Inc. has provided top-notch dental services to residents and families in Huber Heights, OH, and the surrounding communities.
Drs. William and Doug Gioiello will personalize your treatment plan to help you achieve your healthiest smile. We also perform cosmetic and restorative dentistry services, and we're happy to discuss your goals and options during a consultation appointment.
If you're located in Miami or Montgomery County, we welcome you to schedule teeth cleanings and examinations for your entire family! Our team looks forward to meeting you.
General & Preventative Dentistry Services
Recare Appointments
Is it time for a routine teeth cleaning and examination? It's recommended that you have your teeth professionally cleaned every six months. During a recare appointment, we'll perform the following services to make sure you leave our office smiling brightly with peace of mind:
Cleaning
Exam
Digital X-Rays
Fluoride Treatment
Oral Cancer Screenings
Your comfort is important to us. Our trained staff can administer nitrous oxide sedation for anxious or uncomfortable patients. We'll also show you how to brush better and take proper care of your teeth at home for long-term protection and results.
3D Digital X-Ray Exams
We utilize cone beam technology to administer digital X-rays, allowing us to take a closer look inside your mouth and examine the entirety of the oral cavity. 3D digital X-rays are safe, reduce patient exposure to radiation, and produce accurate, higher quality images.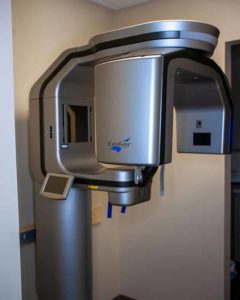 Intraoral Exams
We utilize the latest intraoral camera technology for our general and preventative dental procedures, including teeth cleanings, examinations, and oral cancer screenings. These cameras allow us to examine your oral cavity and detect abnormalities faster and more efficiently.
Sealants
Sealants are made from resin material that resemble your natural teeth. Once applied to the chewing molars, they protect your teeth and every individual groove and ridge from acidic erosion, bacterial buildup, and decay.
Fluoride Treatment
If you suffer from tooth sensitivity or frequent cavities, fluoride treatment may be a solution. Don't hesitate to ask our office about having fluoride treatment done at your next appointment.
Periodontal Treatment
We treat gingivitis and periodontitis by performing root planing and scaling. If your gums are red, swollen, or bleed easily, it's important to schedule an appointment for treatment. Untreated gingivitis or periodontitis can progress and lead to bone loss, loose teeth, pain, and receding gum line.
Oral Cancer Screenings
During an oral cancer screening, we'll evaluate the lips, the inside lining of the lips and cheeks, teeth, gums, tongue, the bottom of the mouth, and the roof or hard palate of your mouth. If we notice abnormalities, we will refer you to a specialist for further evaluation. All patients undergo oral cancer screenings during teeth cleanings and routine examinations.
Mouth Guards
We make custom mouth guards for athletic patients. We offer free sports mouth guards for kids who play in sports.
We also make mouth guards for those suffering from bruxism (teeth grinding). If you grind your teeth at night, you may be experiencing lack of sleep, headaches, pain, or have worn down teeth. We encourage you to make an appointment so we can work with you on alleviating your symptoms.
William J. Gioiello D.D.S. Inc.
Monday: 8:00 AM - 7:00 PM
Tuesday: 8:00 AM - 5:00 PM
Wednesday: 8:00 AM - 5:00 PM
Thursday: 6:00 AM - 7:00 PM
Friday: 7:00 AM - 12:30 PM
Saturday & Sunday: Closed